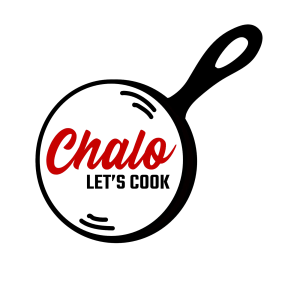 South Africa's newest cooking sensation!
Do you love wowing your family and friends with your kitchen escapades?
The time has come for you to showcase your talent.
ARE YOU READY? Then Chalo!
Lets cook up a storm!
Chalo, Let's Cook is a first of its kind halaal cooking show.
Enter now for an opportunity of a lifetime.
Auditions will be held on 4th and 5th June.
Advertising opportunities also available.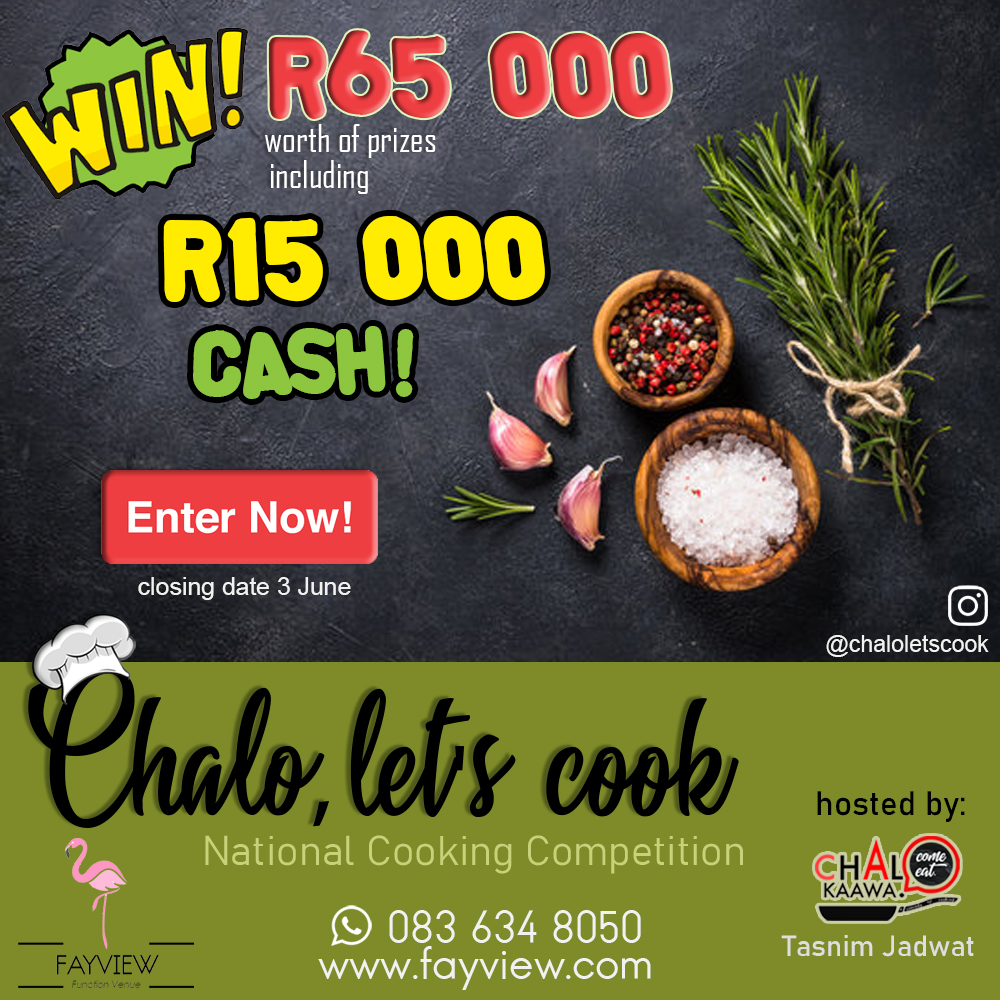 What is Chalo, Let's Cook program about?
Chalo, let's cook, season one is professionally produced cooking competition for all communities of South Africa to not only accentuate the hidden talent within our communities but to also showcase related locally owned companies in South Africa and
most importantly explore our cultures. Twelve contestants from around South Africa engage in an assortment of time limited cooking challenges with the prospect of winning this fast-paced cooking competition.
What kind of cooks are we looking for?
We are on a nationwide search for talented amateur cooks from all types of backgrounds and with a range of cooking styles, to audition. Whether you enjoy cooking delightful desserts, hefty main courses, fine French cuisine or prefer a great tasting burger, we want to hear from you!
If cooking is your passion, you cannot miss out on this opportunity!
Now's the time to follow your culinary dream – take the first step! Signup for the audition today!
What are the restrictions which apply?
You must be 18 years or older on 4th June 2022.
You must also be a citizen or legal permanent resident of the South Africa. Please bring ID when auditioning.
You cannot currently work as a professional chef or have ever worked as a professional chef.
Your current main source of income cannot come from preparing and cooking fresh food in a professional environment (restaurants, hotels, food trucks, pop ups, catering, etc).
We're now permitting foodies to enter, even if they cook at pop ups to earn a living.
How do you apply to Chalo, Let's Cook?
Register here to audition at Fayview Function Venue in Benoni on 4th, 5th June and 26th between 9am and 4pm. There are limited applicants for this event. There is a R200 admin fee to ensure we receive serious applicants. 
What do I need to bring to the audition?
Go to https://fayview.com/product/chalo-audition-registration. Fill out the online application to print out and bring with you to the live audition.
One prepared dish (see below).
You must serve one plate of food to our culinary team. You will  have access to a microwave to heat your food. We will not supply you with any dishes, etc. You must bring your own utensils including the plate, knives, forks, spoons, etc. You will be given 3 minutes to plate your dish (once you get into the audition room) so bring whatever it is you need to do that!
Please think carefully about the food that you bring to the audition, and how you will transport it to Fayview Venue, especially if you are traveling from afar. Please also take into consideration that you must be able to carry everything you need into the audition room. No plate of food, no entry to the open casting call.
Will everyone in line have the opportunity to audition on the audition day?
We're limiting the applicants to ensure that we get through the day by attending to all paid applications. If we are unable to see everyone on the day of the auditions, don't worry! We are diligent about getting everyone's contact information and will follow up with all who attend. We encourage you to apply online at https://fayview.com/product/chalo-audition-registration/
Do you charge for the audition?
There is a R200 once off admin charge for show applicants. You will be given a souvenir to show your bravery in applying for a Live Show. The fee is to ensure that only serious contestants are applying. Some audition clips will be published.
What should I NOT bring with me to the venue?
The list of prohibited items below is not exhaustive and even if an item is not listed below, the producers and security reserve the right to ask you to remove any such item from the venue. People in possession of prohibited items will be denied admission to the line and to the venue and may be subject to immediate disqualification. All bags are subject to search.
PROHIBITED ITEMS
Heating and cooking devices
Blow torches
Candles
Hairdryers
Fireworks
Digital or still cameras (Photography not permitted)
Video cameras or camcorders of any kind
Air mattresses
Tents
Chairs that do not fold (i.e. lawn chairs, chaise lounges, molded plastic chairs)
Alcoholic beverages
Illegal drugs
Weapons of any kind
Animals (unless health-related)
Cans or bottles (except water bottles)
No children under the age of 13 years are allowed at the audition venues.
Please note that the audition day will be a very long day with a lot of standing/waiting and it is not a suitable place for young children. Please do yourself a favor and arrange for childcare if you are coming to the audition. For child welfare reasons, people accompanied by young children may be asked to leave the audition venue.
Please note that audition times and dates, application submission deadlines, and other information contained herein is subject to change as determined by the producers. All those considered for the series will be required to submit and sign additional documents (which may include, without limitation, a participant agreement, waiver, and series rules) in order to be considered to participate in the series. If there is any conflict between the information on this website and these additional documents, the documents shall control. The food experts shall be selected by the producer of the series in its sole and absolute discretion and the decision of the producer of the series is final in all respects.
Will I be facing food experts alone at the open casting call?
You will be going into the audition room in groups, so we highly suggest you start with a bang and submit a great application and a stunning dish!
Producers reserve the right to modify allotted times for auditions at their sole discretion.
Will the food experts eat every plate of food presented to them?
At least one food expert will try to taste every plate of food presented to him or her in the audition room. There may be reasons that a food expert is unable to taste every dish – e.g. allergies, or if a food expert deems the dish to be inedible.
What kind of plate of food shall I bring?
You can bring any dish, as long as it is presented on one plate. But, remember, you will be evaluated on this dish, so make sure you think carefully about it. Maybe it's your signature dish or a recipe handed down through generations or maybe it's "you" on a plate – whatever you decide to bring, make sure it says something about you!
Please remember you will have a short amount of time to plate the dish at a table and if you take longer, there is a chance you will be sent to the back of the line.
What should I wear to the audition?
You can wear anything you like, as long as it doesn't have a logo, photo, artwork, name of a recognizable celebrity, band, group, or a product brand name. Wear something that best represents you!
When and where is the audition?
The audition will be held at Fayview Function Venue Restaurant, 152 President Boshoff Road, Rynfield AH, Benoni on 4th, 5th and 26th of June 2022, starting from 9am to 4pm.
Will there be a Live Audience?
Chalo, Let's Cook will be filmed professionally to be published on Social Media channels in front of a Live Audience. The audience can purchase tickets from the website. Limited tickets are available for sale at R25/spectator.
Friends and family are welcome to accompany you during the auditions. There is no entry fee.
What is the format of the programme?
The format and voting procedures will be communicated to the 12 participants.
When is filming?
Filming will take place in July for the 6 episodes.
How can my business benefit as an advertiser?
A select few will be chosen as sponsors and advertisers. We have different packages to suit your marketing budget. Exposure of your brand and products will be a key benefit in the Chalo, Let's Cook programme. Contact us for more advertising information on 083 634 8050.
When is the deadline to apply as a contestant?
The deadline to apply online is Midnight, 12:00AM GMT+2, 25th June 2022, unless we've reached capacity before then. An announcement will be made on the website.
What's the procedure of the audition?
Come early to be in front of the line on audition day. An interview will be held at the Fayview Restaurant where a dish which you've prepared will be tasted by judges and some questions asked to see if you fit the fill of a contestant. Cook up something at home and bring it along. You can warm up and plate it at the restaurant. Only Halaal food will be accepted as submissions.
How do I know if I'm accepted as one of the 12 contestants?
An e-mail or text message will be sent to you confirming acceptance to contest in the programme.
If I'm accepted to the show, what time is my commitment?
If you are selected to be on the show, you must be available to commit yourself to the competition and taping of this show for approximately 5 days between 27th June 2022 to 1st July 2022, depending on how far you advance in the competition. Dates are subject to change at the Producer's sole discretion.
Is there a charge for parking at the venue?
There are no parking fees at Fayview Function Venue.
Will there be food and drinks available for sale at the venue?
Halaal food and drinks will be available for purchase at the venue, no need to bring your own water and snacks.
REGISTER TODAY!
Space is limited
Address
152, President Boshoff Road, Rynfield AH, Benoni
Hits: 1668